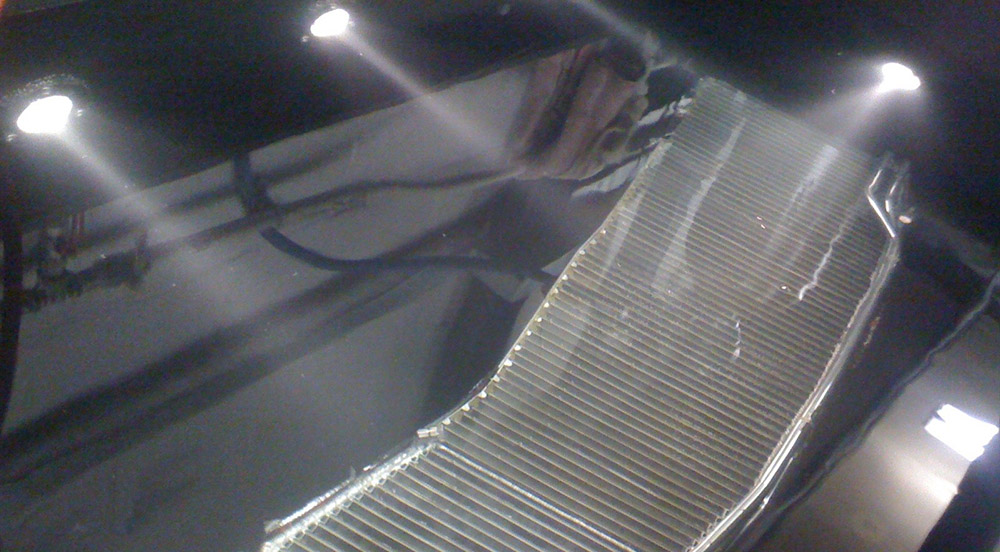 Developing a Testing Protocol
In part one, we gave you a glimpse into why we believed focusing on eliminating cooler contamination would lead to more winning cars. Now here's how we developed our unique, industry-leading cleaning and testing service.
All heat exchangers are, essentially, radiators. Large industrial heat exchange clients can't just run their coolers, topping up fluids until something goes 'pop' and replace it with a new one. Can you imagine!? They engage in regular inspections and maintenance cycles, to protect the longevity not only of their heat exchangers, but the rest of the infrastructure that depends on them.
So we thought, if that's the case for plants, why not also for pistons? Could we develop a treatment that will maintain a cooling system, sustain top performance, and prevent component failure, all at a speed and price that makes it more sensible than just dropping in a replacement? Of course we can!
Sampling & Investigation
We began by taking pre- and post-race samples from a wide range of racecars to establish a baseline, carefully comparing the wear and tear on components with the level of contaminants found in the coolers. This became especially telling when we inspected those that had experienced a component failure.
With these encouraging early results, we gained more timely access to testing at various phases of the racing cycle. We began to test more in-depth and capture live data, not only about particulate sizes, but the specific particulate matter and array of material types. This also led to the development of our two key service offerings in our cleaning and testing service.
Service Cleaning
As part of the constant testing, we developed a cleaning process to flush the coolers. We also discovered with some modifications to our testing setup, we could inspect what was coming out of the coolers to a very high level of detail.
This became what's now known as the Serck Fluid Dynamic Flow rigs. It's a new evolution in cooler cleaning, and led to the development of our unique Micron Analysis testing, featuring multiple microscopes and sample filtration testing.
Flow Testing
With the dynamic flow systems in place, flow testing was the next piece of diagnostics introduced to our cooler service. This follows the principles of heat exchanger pressure testing, and can measure flow rates from 0.5 litres through 10 litres per second.
With this setup, we're then able to see how the pressure drops in a very precise way to determine the core performance and give the cooler a clean bill of health, or recommend repair or replacement.
Micron Analysis; creating a standard
Once we had real-time data and comparisons across a variety of cars and coolers, we were able to establish an actual standard of cleanliness and particulate count that's much higher than typical ISO standards for regular production. We can count down to 1 micron – our current F1 standard is cleaning to <10 microns – and our race teams note a measurable difference in performance and component integrity when this standard is incorporated into their pre- and post-race maintenance cycles.
Since setting this new standard and offering our innovative service, we currently service over half the Formula One grid, engine manufacturers, Formula E, WRC, Touring Car, and much more.
Want to know how this service can help increase performance of your race car, or preserve the components of your heritage vehicles? Contact us today.